About How to Write an Original Fiddle Tune:
Creating a new tune is a fun and rewarding endeavor. But the idea writing music often seems daunting—where do you even start? Will my music sound good?
Join Vi in this lesson as he reveals his secrets of writing fiddle tunes. Together we will create an original fiddle tune. You don't have to "be creative" to take this class, but you do have to be willing to take a chance. Bring your fiddle and your sense of adventure.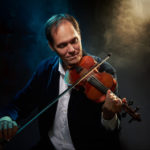 Vi Wickam
Vi Wickam of Loveland, CO has been performing fiddle and writing music since before he could read. Along with his brothers and dad, The Wickam Family Band performed regularly on Blinky's Fun Club, a nationally syndicated TV program. Vi's fiddling can be heard on numerous CD recordings, including two of his own. He's played with many different bands throughout the United States, and even briefly in England. Among his fiddling honors, Vi has won the Colorado State Championship twice, and been a finalist four times at the Grand Masters' Fiddler Championship. He has judged fiddle contests throughout the US, and directed regional and state level fiddle contests. Read More About Vi→