About Learn Tunes Faster Through Patterns:
Find out the secret to learning tunes FAST! Memorizing a new fiddle tune may seem like a challenge today, but Vi will teach you how to break down a fiddle tune into logical chunks and internalize it faster than you ever knew was possible.
You will never look at a fiddle tune the same again! Bring your fiddle, because we will learn a tune while we are at it, maybe more!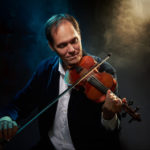 Vi Wickam
Vi Wickam of Loveland, CO has been performing fiddle and writing music since before he could read. Along with his brothers and dad, The Wickam Family Band performed regularly on Blinky's Fun Club, a nationally syndicated TV program. Vi's fiddling can be heard on numerous CD recordings, including two of his own. He's played with many different bands throughout the United States, and even briefly in England. Among his fiddling honors, Vi has won the Colorado State Championship twice, and been a finalist four times at the Grand Masters' Fiddler Championship. He has judged fiddle contests throughout the US, and directed regional and state level fiddle contests. Read More About Vi→